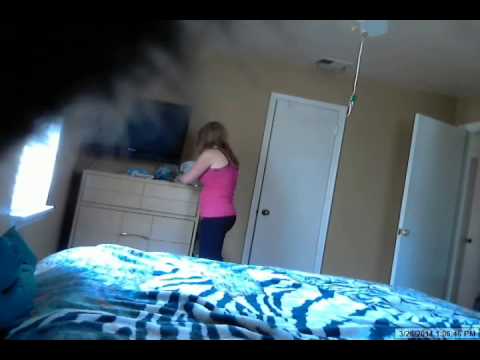 File Name: Roommate caught on hidden camera.
Duration: 6 Minutes 50 Seconds
View:: 9778940
Published: Tue 1 Apr 2014 at 9:16pm
Uploader: Jessie bohanan
Roommate caught on hidden webcam. Why bedroom doors should always be locked. She had planted money in my room and accused me of stealing the money when in fact it was her all along. This is my room which us usually locked while I'm not home. Ashley had snuck in while I was outside or preoccupied doing something else and planted a roll of 22 one dollar bills with "Lillian's $22" written on it. About 2 days before I found the money, she had accused me or my bf at the time of stealing money from her water jug. I know I didn't steal it and my bf sore he didn't take it so that is when I set up my webcam and intentionally left my door unlocked for a few days when I went to work to see if Ashley would go looking for the money since I never brought up that I had found it. In this video you will see me put $7 on the dresser to see if Ashley would mess with it or steal it. What she did was write "Lillian's $22" on MY money in an attempt to make it look like it came from the roll in the dresser she had planted. She continued going in the room for several days looking for the money where she thought she had put it but never looked in other locations as she still believed that I hadn't found it. Once confronted with the video she denied it was her for around a week and then asked me to remove it off youtube out of "respect" for her. Obviously she had zero respect for me so the video was left up for the world to see her in action.